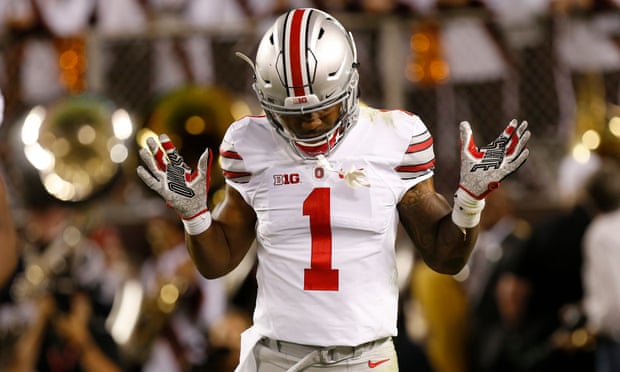 Those of you that love the movie Friday Night Lights remember the phrase and title of this blog. I loved that line and movie but I also loved that with one spin move, Ohio State's Braxton Miller made his way into the Heisman Race. It is still very early but we're a "what have you done for me lately?" era. I will touch on how Braxton's new role may help keep him in the top 5 of the Heisman list all season.
So about that Braxton Miller spin move. I was watching the game with my stepson "KG" and he's pinging me with questions. "Who's the QB? Which one got hurt? Why do they have #1 back there?" Right after he asked the third question we both get quiet to watch the play and in a matter of seconds "it" happened and all you hear is "OOOOHHHH!!" from me and KG. KG's only 9 but he was focused on the TV just as I was and we were both giddy after seeing this: https://www.youtube.com/watch?v=wq6ComNZ_Vs
I can assure you that KG will mimic that spin move and end zone celebration at some during the rest of his peewee football season.
Now back to Miller, who starred at QB for Ohio State from 2011-2013 and was ready to do the same in 2014 until a shoulder injury knocked him out for the season. Coming off of an undefeated 2013 season and bowl ineligibility, OSU had big plans with Miller. Ohio State's plan of a run to win the National Championship occurred but with not one but TWO stellar young QBs (Cardale Jones and J.T. Barrett). This left Miller's return in limbo and rumors of him transferring started to surface. After some time had past, Miller had a meeting with Ohio State's Head Coach Urban Meyer. I can only guess that the meeting was mainly Meyer telling Braxton "I'm going to let you spin". And so in game one of Ohio State's 2015 season, we saw why Miller is still one of the most dynamic player's in College Football. Miller amassed 140 total yards and 2 TDs on 6 carries and 2 catches. Miller was also targeted on two other incomplete passes from Cardale Jones. 17.8% of Ohio State's offensive plays involved the ball being in Miller's hands or an attempt to get it in his hands to make something happen. This doesn't account for plays when he was on the field and the play didn't go to him. This was a positive for Ohio St. in many ways. The Buckeyes were able to help Miller build confidence playing in new positions/roles (QB/RB/WR/KR) coming off of a season of not playing. They were able to put fear into future opponents by showcasing Miller's big play ability. OSU should be able to use Miller as a deep threat in conventional and unconventional ways. The "conventional way" will be for Miller to go deep on a fly route and the "unconventional way" would be for him to take a 5-10 yard catch and go to the house via YAC (yards after catch). Also there's using Miller as a decoy. OSU has a bunch of threats that Miller can free up. The only question we didn't see answered was "can he still throw a decent pass?" I'm sure we'll get that answer soon.
I always like to include videos in my blog post. To keep the trend going I thought I'd include some nice spin moves from two other sports. I hope you enjoy.